Zoom info page (eLearning@CUHK)

https://cuhk-edtech.padlet.org/web/ma76lbjt9hu8
ZOOM briefing session (Faculty of Medicine @ 30 Jan 2020)

Access the recording of the briefing session on "Get ready to use Zoom to teach, learn and collaborate online" jointly organized by ELITE and the Office of Medical Education on 30 Jan 2020:
https://panopto.cuhk.edu.hk/Panopto/Pages/Viewer.aspx?id=ad9766d4-8e47-45fb-90da-ab5301233ed0
---
Tips for using Zoom for teachers
Co-Host
You need to inform the users that in order to allow "co-host", the "co-host" users must previously login at least once to https://cuhk.zoom.us with their CUHK email account. Otherwise, Zoom will not have the information of the co-host users.
Bandwith
Our meeting room which has a wired LAN connection of >600Mbps; (my office is only 100Mbps, you can check it on fast.com), it also has a very nice voice conference recorder.
Waiting Room
DO NOT use the waiting room function. Students pop in and out and can be annoying as your need to admit them via clicking.
Virtual Hand
You can check if they can hear/see you clearly by asking them to raise their virtual hands in the participant box.
Annotation
Enable the Annotation in setting, this allows you to highlight your mouse, draw on screen etc.
Audio/Video
Suppress student audio/video to avoid interruption, but go through the Q&A via chat box at the end of the session.
Finishing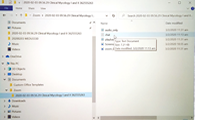 After the session is finished, the following media files of the recorded session will be saved in  Documents\ZOOM\YourScheduleSessionFolder of your local computer (see figure):
A MP4 is automatically generated (on cloud or on local computer), we will help and trim away the start/end before uploading to cloud.
A pure audio file in M4A format of the recorded session will be available too.
All chats in the chat dialogue box will be saved in a pure text file.
---